An employee experience platform is a perfect place to create the vibe of the holidays.
The festive season is all about the culture of gratitude and appreciation in the form of gifts and small surprises. Let's spread celebration activities to the employee experience platform. The idea is to provide a place for celebrations right within the platform. Such employee-centered activities can increase loyalty and motivation, reducing employee turnover.
We know that holiday preparation takes tons of time and we all want to spend more time with our friends and families instead of doing more work. How about we tell you that you can do all the preparations within a week or so? Let us share our ideas and solutions to cover all the preparations and activities for the festivities for every user.
What's in this for the company?
A lot! Here's a list of only some pros the company will get.
You will get increased user adoption with all the users who want to celebrate holidays with the company.
Your employee experience platform may get new content leaders after the gamified challenges.
You can get more data collected. If you need your users to take a survey, you can motivate them with a prize.
Your employees will feel more appreciated with all the preparation and gifts you'll provide specifically for their joy.
You can use the employee recognition marketplace to popularize any charity or social responsibility initiative you want. The marketplace can contain donations as prizes.
Your employee experience platform will get more activity around the usually quiet holiday time.
Below we discuss some of the ideas to bring life and motivation to any employee experience platform during the holiday season.
---
Holiday activities for any taste
Colleague Thanksgiving day
November 1st – November 23rd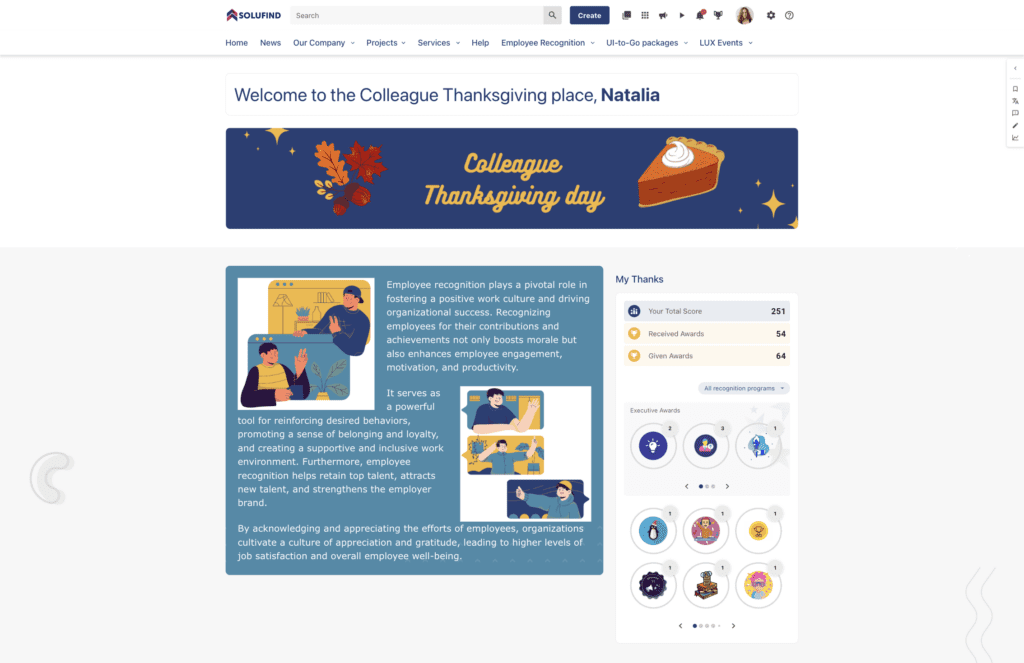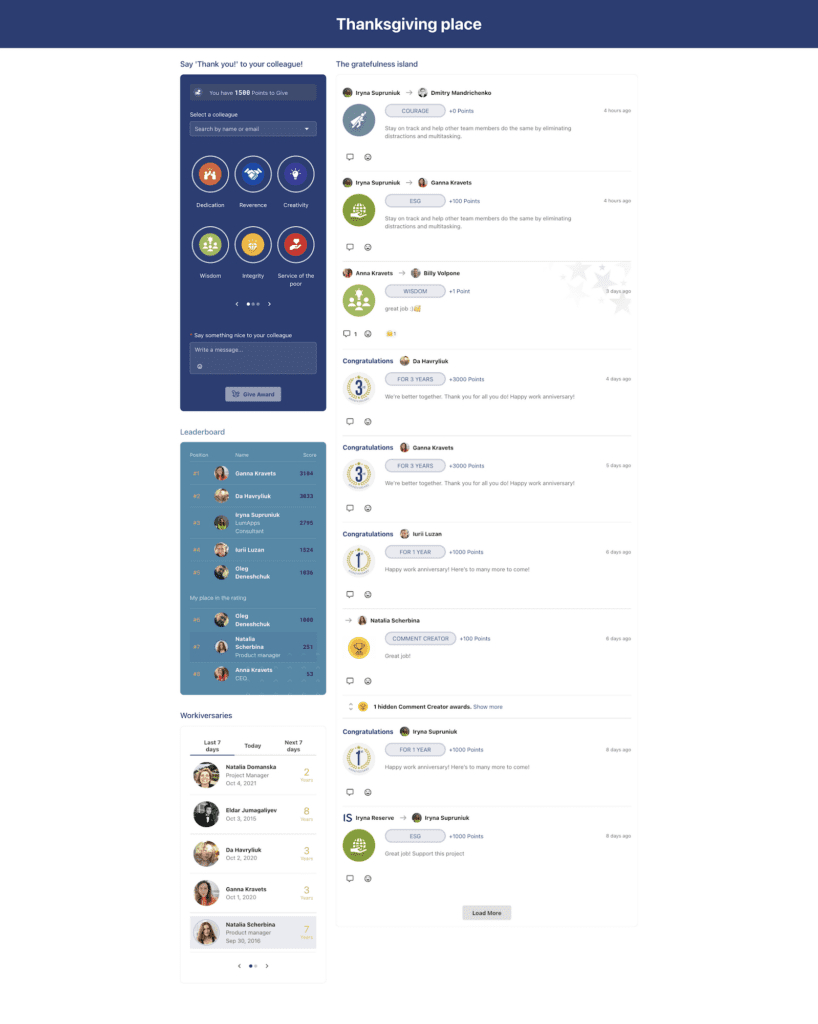 Thanksgiving Day celebrated on the fourth Thursday of November in the United States, is rooted in the early 17th century. This historic event marked a moment of gratitude for the Pilgrims, who had survived a challenging year in their new homeland. It has since become a symbol of unity, thankfulness, and the spirit of giving thanks for the year's blessings.
Today, Thanksgiving is a time for feasting and reflecting on the importance of family, community, and the many things we have to be thankful for. Make this Thanksgiving Day even warmer with a gamification challenge and celebrate this rich tradition of gratitude in a fun and interactive way!
Make this day about expressing gratitude to your employees and every colleague! Set up a dedicated page to help people navigate through the Thanksgiving recognition campaign. This page can also highlight employees who made especially significant efforts this year. Let them know you are grateful for these efforts. You'll need to set up a gamification campaign with a set of peer-to-peer badges for your employees to express appreciation to each other. Every badge can be related to work activities or just to being a good person.
Also, a special manager reward would help boost the holiday spirit. Such executive awards will express a high evaluation of all the employee's accomplishments and highlight such appreciation on their profile page. Having automated awards would help you say 'Thank you' to every employee in the company to make them feel better. Thanksgiving is about coming together, and a gamification challenge is the perfect way to connect, celebrate, and spread positivity. Join your colleagues in this joyful challenge, and let's make this Thanksgiving an unforgettable experience for all!
---
Corporate advent calendar
December 1st – December 25th
Christmas celebration has one beautiful and old tradition, that is, advent calendars. The origins of this tradition go to the 19th century. People used advent calendars to learn about Christ and bring joy to children while waiting for the main holiday of the Christian world.
Today, advent calendars spread way further than religious purposes. Today, they stand for bringing joy to anyone with many different fields of interest.
You can provide such joy to your employee experience platform with a properly prepared gamification. The idea is to take something simple and known to many people so that they would not need any training or motivation to participate.
A corporate advent calendar is something that will bring profit to both employees and the company.
The advent calendar will be represented with a set of simple daily tasks to perform to get a badge for the activity. Collecting badges and points people will be able to exchange them for gifts in the employee recognition marketplace.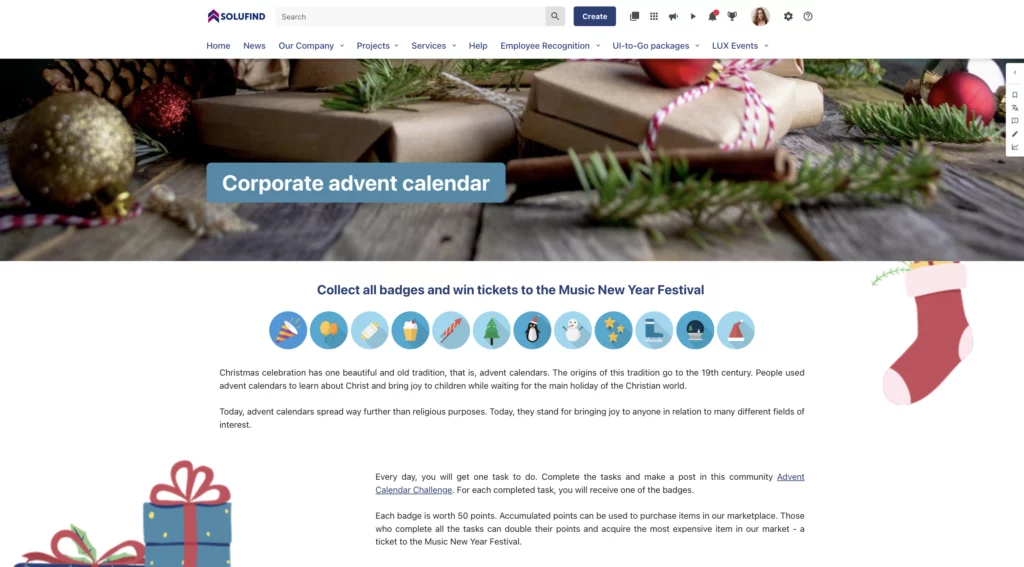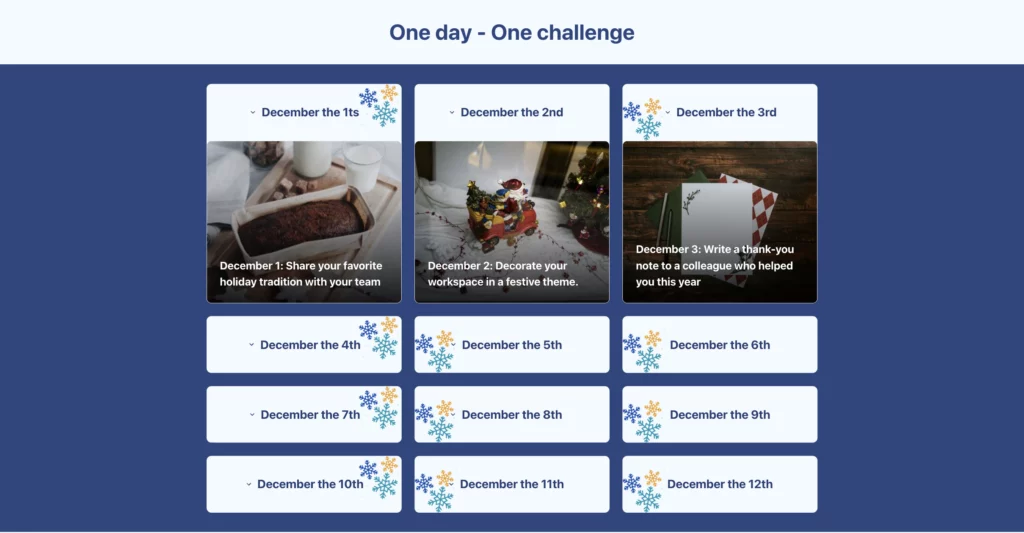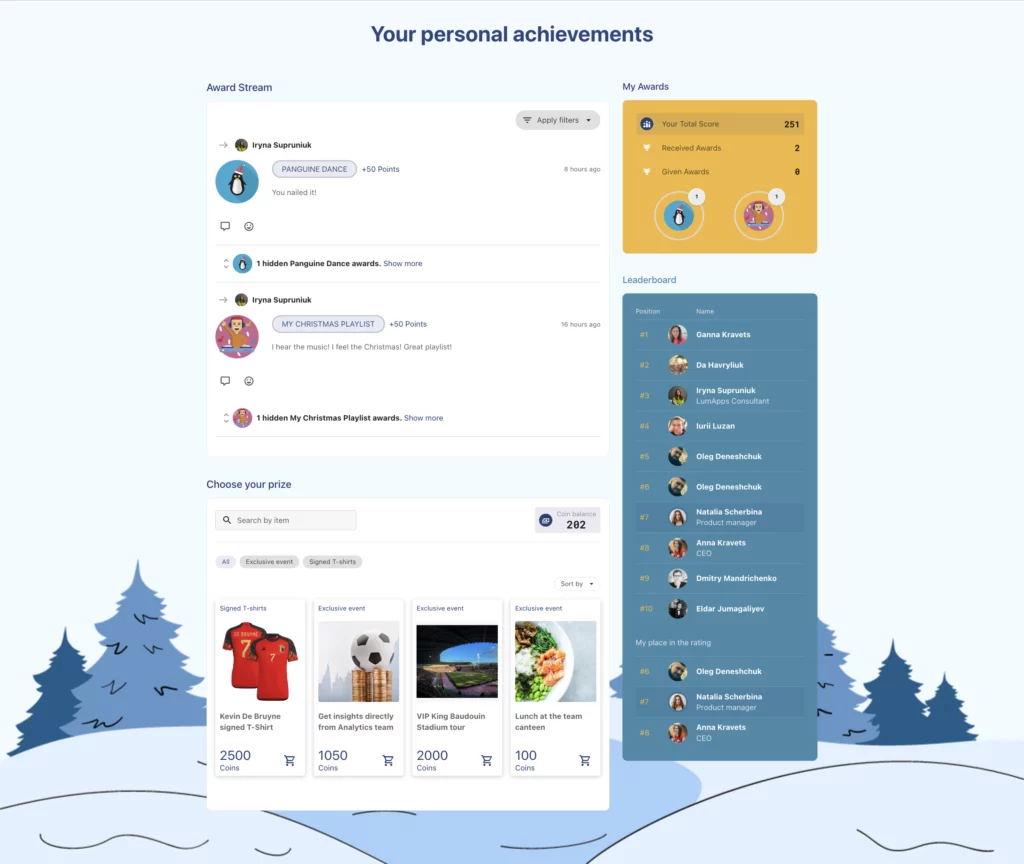 ---
Hanukkah (Chanukah)
December 7th – December 15th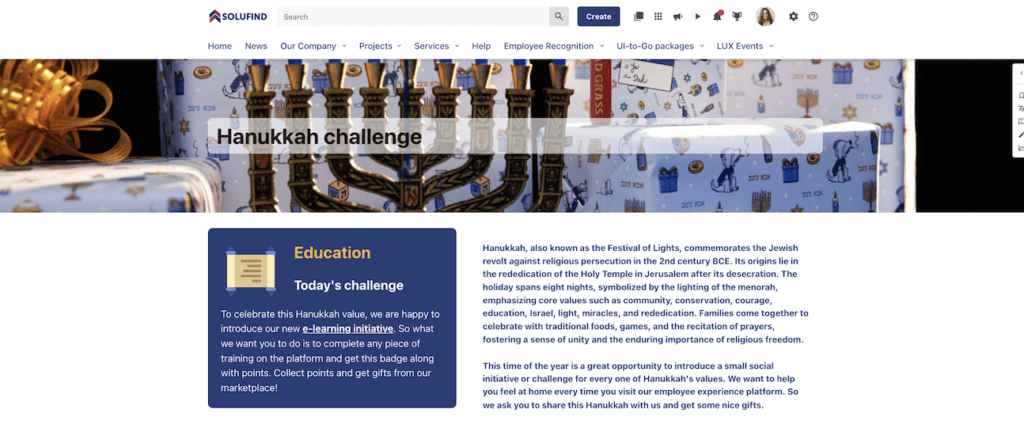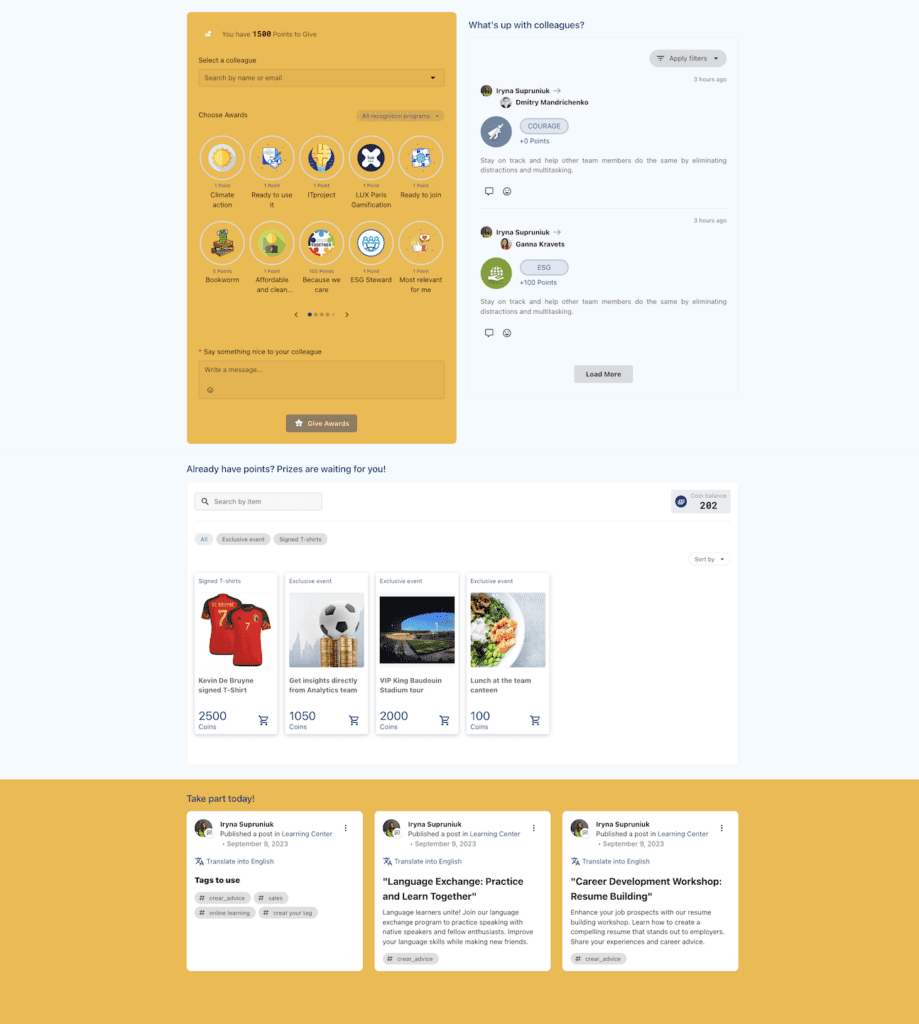 Hanukkah, also known as the Festival of Lights, commemorates the Jewish revolt against religious persecution in the 2nd century BCE. Its origins lie in the rededication of the Holy Temple in Jerusalem after its desecration. The holiday spans eight nights, symbolized by the lighting of the menorah, emphasizing core values such as community, conservation, courage, education, Israel, light, miracles, and rededication. Families come together to celebrate with traditional foods, games, and the recitation of prayers, fostering a sense of unity and the enduring importance of religious freedom.
This time of the year is a great opportunity to introduce a small social initiative or challenge for every one of Hanukkah's values. Of course, your employees will profit from these initiatives but you can make sure to motivate them properly. Suggest fun and easy challenges to let people learn more about Jewish heritage and Hanukkah values with each such initiative. For example, for the education value you can launch an e-learning initiative for your employees and challenge them to complete some training via this initiative. For every complete training, they will get a badge with points to exchange them for gifts, such as merch or gift certificates to a book store.
---
Secret Santa
December 15th – December 31st
Secret Santa is a very popular tradition for companies that celebrate Christmas and New Year. You can move all the preparations to your employee experience platform. The main principle of this gift-giving game is to set up some budget and get a random colleague's name to be their Santa.
Set up a page for Secret Santa with the names of all the people to participate in this game. On this page, you can make all the action happen. You can even make all the magic happen on the platform.
What you need to do is to set up a gamification campaign with the points and rewards. Suggest points budget for gifts and gift ideas on the marketplace. Fill the employee recognition marketplace with some gifts on the budget. Then, provide every user with the number of points and let them choose the gift for their colleague in the marketplace. With such an approach, every employee can buy a gift for their colleague without any headache of looking for a gift.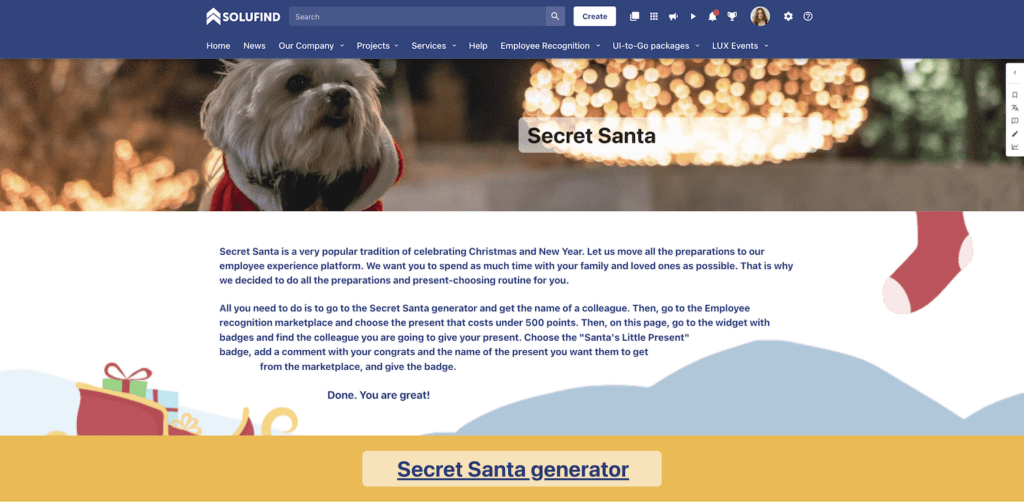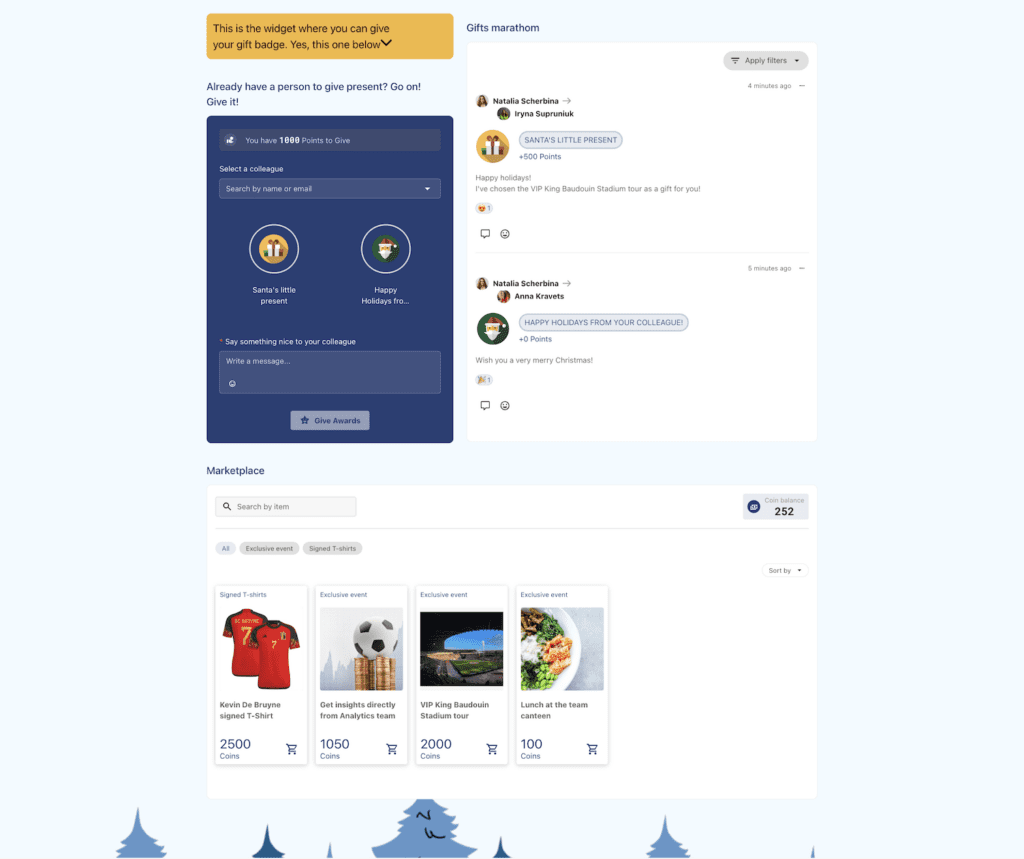 ---
Kwanzaa
December 26th – January 1st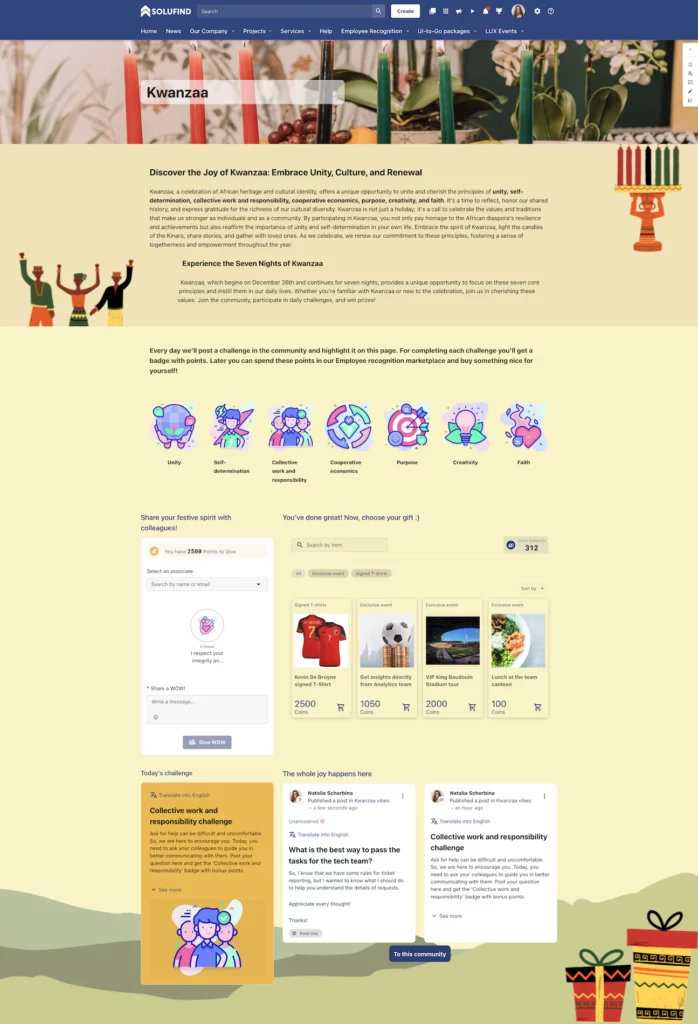 Kwanzaa, a cultural holiday, which was founded in 1966 by Dr. Maulana Karenga. It takes place from December 26th to January 1st and is inspired by traditional African harvest festivals. Kwanzaa is centered around seven principles known as the Nguzo Saba, emphasizing values like unity, self-determination, collective work and responsibility, cooperative economics, purpose, creativity, and faith. It serves as a time for reflection, community-building, and the celebration of African heritage and culture.
This Holiday is a perfect opportunity to celebrate African heritage and remind people of the importance of corporate culture. Let's celebrate diversity during this festive season. You can set up this community-centered gamified challenge very easily with the right solutions on your employee experience platform.
What you need to do is to set up a community to let people communicate and complete this challenge's tasks. Every day will be dedicated to one Kwanzaa principle with related tasks and content to highlight the historical and social background of the related principle. It is important to pay extra attention to introduce people to the main idea of Kwanzaa. Make sure you support yourself with strong and motivated content leaders. Let the whole company unite around the universal values of diversity and respect. It is important to reward people for their efforts, so every challenge should come with specific awards. So you'll need to set up a gamification campaign with the badges for every Kwanzaa principle-related challenge. People will get badges and points for completing tasks, and for the points, you can set up African-American heritage-related prizes in the employee recognition magazine. This will inspire people to investigate more about this beautiful culture.
---
New Year's resolutions
January 1st – January 31st
New Year's resolutions are personal commitments made at the start of a new year, where individuals set specific goals to improve themselves, their habits, or their lives in various ways. These resolutions often encompass a range of aspirations, from health and fitness objectives to career advancements, personal growth, and even contributing to the community or the environment. While New Year's resolutions symbolize a fresh start and the potential for positive change, their success often hinges on determination, planning, and the ability to stay motivated throughout the year.
An employee experience platform can become a huge part of the motivation for every employee. Your company can challenge people to stay committed to their New Year's resolutions through a gamified incentive system.
What you need to do is to set up a community where people will make their New Year's resolutions. You can help them by posting some of the best New Year's resolutions ideas. Set up a period to track the progress of the achievements. Here goes the game! Set up a gamification campaign to encourage people to make their resolutions, share their progress with their colleagues, and get their first achievements. Every step will be rewarded to highlight a person's efforts in their profile. The most loyal to their resolutions will get enough points to exchange them for prizes.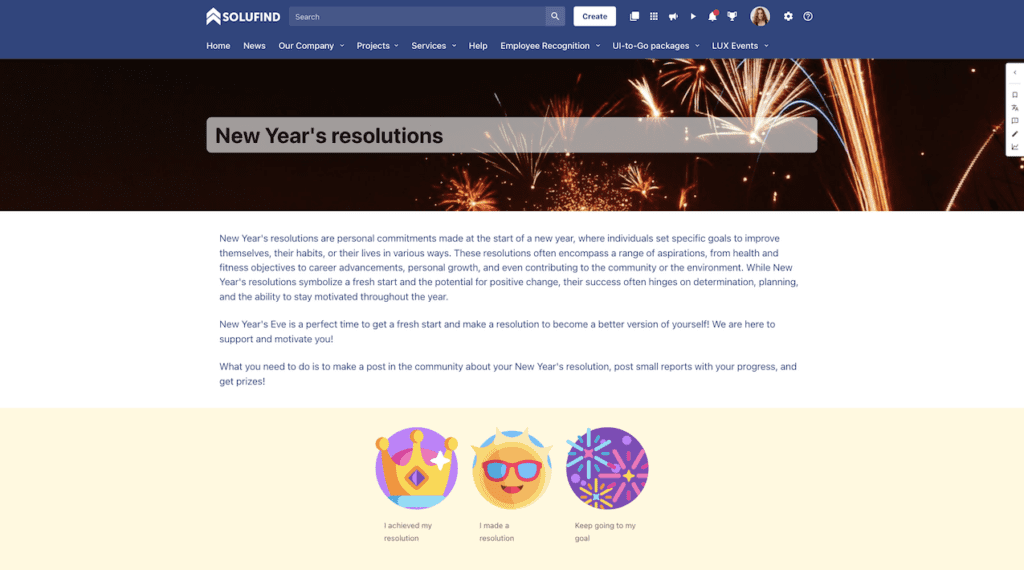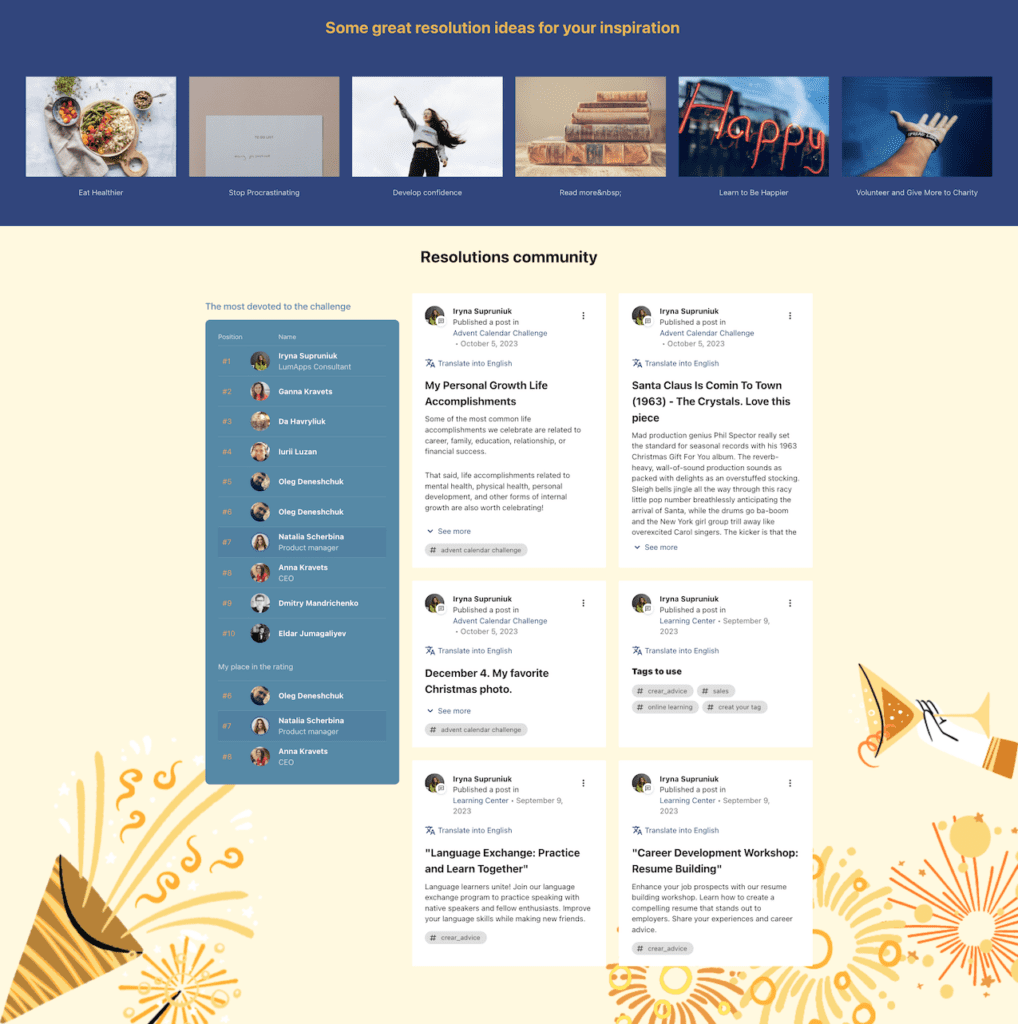 ---
These are only some of the many beautiful and rich holiday traditions you can easily celebrate on your employee experience platform with the right solutions and a pinch of imagination. Feel free to survey your employees to learn more about their cultural heritage and local holidays and traditions. Celebrate them all and nurture loyalty and dedication to your company. If you have any ideas you would like to implement, feel free to ask!
Header photo by Toni Cuenca on Unsplash